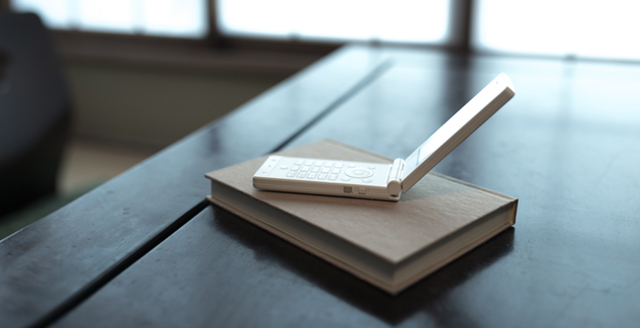 Mega hits come small screen gadgets!
The mobile phone novel boom began in 2006. There were cases such as a novel called "Deep Love"(*2) in which the author, an ordinary high school student, received royalties in the region of 10 million yen, and the novel itself became a social phenomenon. At this time too my focus was on the present, asking myself "what is the significance of this?" The president of community site Magic i-Land(*3) which created the mobile phone novel boom said to me, "Don't you think it's amazing? Wonderful novels can be produced and sold C to C. Everything is produced on the system, we don't need editors anymore." Even when I was having problems with publishing companies I didn't completely reject editors, I simply pointed out that they didn't value the artists. I was still extremely doubtful as to whether novels chosen through such a system would be interesting. I asked him then, how we could get rights to the works of an author capable of ranking at around 300th place in the Suntory Mystery Awards, he simply replied "No, that is the old way. Now, the system chooses."
Most mobile phone novels are based on memoirs written by high school students who have only lived for 17 years, so they tend to end with either cancer or a traffic accident. However, these are not rare in real life, and even television series that were popular when I was a child such as Momoe Yamaguchi's Akai series had this kind of ending. There was also a trend in "Teen Novels", but I was more focused on full-scale novels. I wondered whether an Akutagawa Prize-winning author would emerge from this i-mode that seemingly no adults were interested in. So, I created the Mobile Literature Prize(*4) and produced a large volume of novels, some of which reached 10 million downloads or were later converted to conventional books. One example of this is a photobook called "Asadake" [The Asada family](*5). The concept of this photobook was that all of the Asada family would dress up in various costumes, such as in fireman costumes. It was a slightly different business model from that used for mobile phone novels which were available for free, so we distributed it on the Internet with advertising from P&G. Asadake was also converted into a book by a publishing company called Akaaka. This photobook won the Kimura Ihei Award, known as the Akutagawa Prize equivalent for the photography industry. This kind of event kept on occurring. When "Mustard Chocolate" (author: Tomoko Fuyukawa) was published, it won the New Face Award at the Japan Media Arts Festival sponsored by the Agency for Cultural Affairs. As my job was to develop new businesses, some might say it is only natural that hits were generated from four different kinds of media. But I think my success was partly thanks to my persistent approach of obtaining a mature evaluation from adults of a media propagated by children.
(*2) Deep Love
A mobile literature written by Yoshi in 2000, first appearance was from his website. The Printed book recorded 2.7 million copies.
(*3) Magic i-Land
A platform of a mobile website builder since 1999. Also a pioneer of e-book. One of the most well-known literature of mobile contents which has been published over 1 million books.
(*4) Mobile Literature Prize
Sony Digital Entertainment and ONBOOK hosted a [mobile literature prize] in 2006 Dec. Created an award for adults at a time when teens where the main audience.
(*5) "Asadake" [The Asada family]
Born in 1979. "Asadake" [The Asada family] is photographer Masashi Asada's outstanding work. The photo book was created by his family in costumes with stereotype of Japan workers. The work of art won for the Kimura Ihei Award (2008).