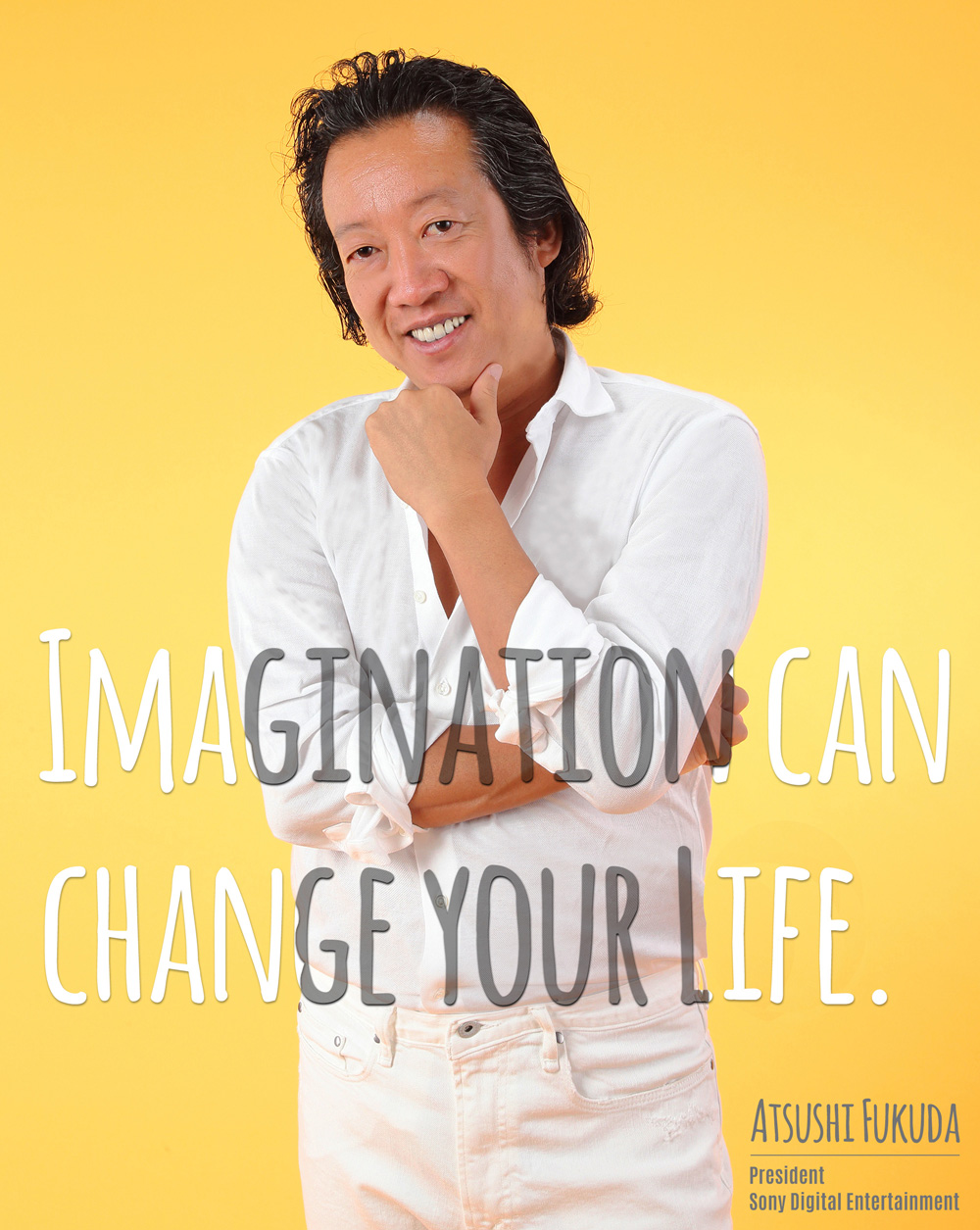 Imagination Can
Change Your Life.
Atsushi Fukuda
Born in 1965, graduated from Nihon University College of Art.
Since 2007, President of Sony Digital Entertainment, previously Vice President of Sony Pictures Entertainment related many of new media business startup including Animax Channel for Japanese animations.
Lectured at Keio University in June 15th, 2016.
Editor:Chizuko Fukuda / Photo:Yukiko Koshima
Hello everyone. Today I would like to talk to you all about my life in the hope that it will give you some hints as to the type of people who work in the media industry.
I'm now 50 years old. In the English speaking world, this is known as "half-century boy" as a kind of congratulations for reaching this age. When I was at university, I thought "50 years old is really grown up!" but now I have reached this age myself I don't actually think so. Maybe that's because I am doing something that is more like play as a job. I believe you should work as hard as you can for the things you want to do.
1.Content creation is based on hardware
8mm gave us the freedom to create our own movies
I first started thinking about my own future when I was 12. I was born in Osaka, and one day I went to see Star Wars in 70mm (higher quality than the standard 35mm movie film) at the Umeda OS Movie Theater, and was so moved! I've always liked to talk, and at elementary school I used to like making people laugh. But I realized that with a movie you could bring excitement to hundreds or thousands of people at the same time with just one showing. I thought this was amazing! When I was 14, I swore that I would go to Hollywood and make a movie! I got all of my pocket money together and ran down to the local supermarket and bought a lot of 8mm film for 100 yen per reel, as it was on sale for being out of expiry date, and started making my own movies.
A few years later, a number of movie directors who started with 8mm and who had no practical experience in studio work began to appear. People like Kazuki Omori and Shunichi Nagasaki. Interesting works such as Yoshimitsu Morita's "Something Like It" were being produced all the time. Even famous directors such as Steven Spielberg used the theme of a 14-year old boy becoming absorbed in 8mm films in his movie "SUPER 8" (2011).
If you want to enter the creative industry, you must remember that "content creation is based on hardware". In the past, the main catchphrase used to advertise "Single 8" (movie film for independent film making) was "even I could use this", illustrating that the release of 8mm cameras meant anyone could make their own movies. When computers were becoming popular in around 1995 and as the Internet became more widespread, the ability to create CG on your own desktop computer was entirely "based on hardware". People who want to express something make good use of hardware to make their ideas a reality. I believe the 8mm was the forerunner to this era.