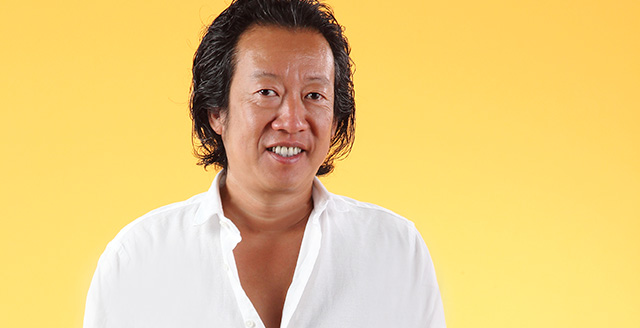 2.Realizing I was more a marketer and businessman than a creator
After graduating from high school I wanted to attend the Department of Cinema at Nihon University College of Art. Directors such as Shunichi Nagasaki and Yoshimitsu Morita were graduates of this department. Unfortunately though, I failed to get into the Department of Cinema, and so I started studies at the Department of Literature instead. However, part way through my studies there I decided I wanted to become a novelist. It's so easy to change your mind when you're young! I'm still the same even now though! (Laughs). The first novel that I wrote was published straight away in "Waseda Bungaku" (Waseda Literature). I was asked to write a second, and being the kind of person who is easily pleased by flattery, I thought to myself, "Great! This will be my debut as a writer!" However, I simply couldn't write the second. In the end, I only ever wrote one novel.
So next, I focused my attention on theatrical performances and the stage. However, even though student theater is really cheap to see, only friends and family go so everywhere runs at a loss. I knew this, so thought that we should increase the quality of performances to increase the ticket price. I immediately implemented that idea as a theatrical producer, and the next production actually made a profit. It was at this point that I realized "I am not a creator, I'm a marketer and a businessman".
3.Suddenly Redundant.
Things looking bleak at 31!
In 1988, after university and in the midst of the bubble era, I was working for Tohokushinsha Film Corporation. I was in the CM department, and as a "gofer" I got to do pretty much everything. It was around when JULIANNA (dance club) was popular, we could go out every night even though we earned low wages. That was when the economy was booming.
A few years after that Tohokushinsha Film Corporation started their satellite broadcasting department, and in May 1989 launched Star Channel, a channel dedicated to movies. At that time it was still an analog satellite broadcast. I was transferred to this department, and had my first business trip to Cannes in order to purchase the rights to movies. Until then, I'd had a promising career, but suddenly at the age of 31 I was made redundant. Everything suddenly looked so bleak.
When you listen to people who switch careers, they are all really smart. They have already decided on their next move before they quit their current job. But I didn't have any such inkling. I finished that job with a kind of "forget it then!!!" feeling, with no prospects of income from the following month! (Laughs). I was so surprised at how sudden it was. When I was working at Tohokushinsha Film I felt so close with the president and secure in my position that I was living flamboyantly, with my own house and a Mercedes. But I lost my job so suddenly, and ended up spending the next 2 years unemployed.
4.The true charm of media projects is that your work spreads throughout the world
When I was 33, Sony Pictures Entertainment which is a major Hollywood studio decided that they could use me and picked me up. Masayoshi Son of Softbank and Rupert Murdoch of News Corporation had launched "J Sky B" planning company, and were making quite a stir by declaring they would start "multi-channel satellite broadcasting".
Sony Pictures was also trying to start its own 7-channel satellite broadcasting, so they wanted me for my experience in starting satellite broadcasting projects when I was working for Tohokushinsha Film. This was a huge relief for me! At last, I started earning a wage again! (Laughs)
I was directly involved in "Animax" and "AXN" (the foreign drama channel). In 1998 I was involved in "Sky Movies" (which later merged with "Star Channel"). Have any of you ever seen the "Animax" channel? It is quite popular. You can watch it in 60 countries worldwide, and it is even broadcast for 3 hours a day in Africa. The true charm of working on media products for me is that your work really can spread throughout the world.