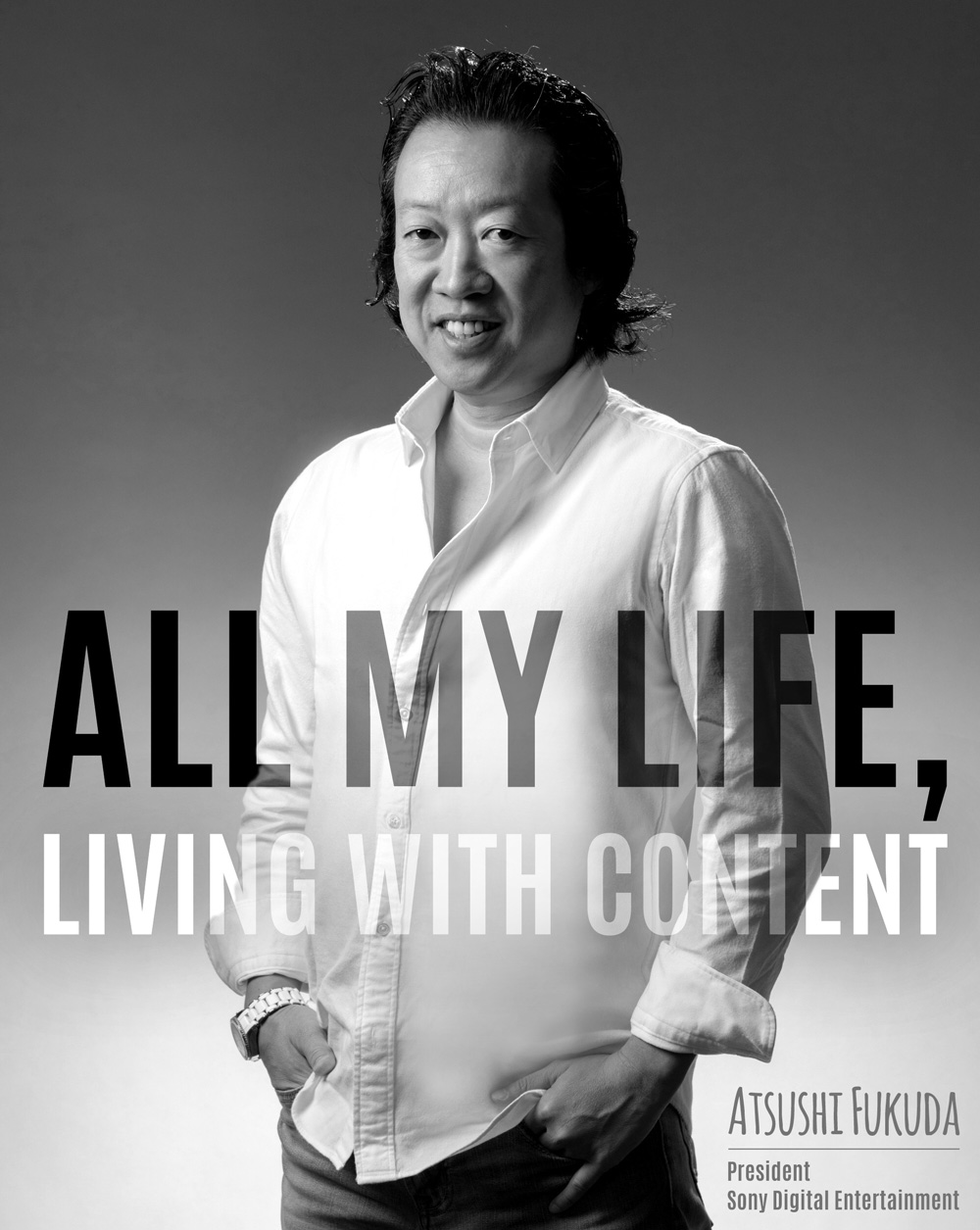 All my life, living with "Content"
Date: October 21st, 2015
Place: Aoyama Gakuin University
Atsushi Fukuda
Born in 1965, graduated from Nihon University College of Art.
Since 2007, President of Sony Digital Entertainment, previously Vice President of Sony Pictures Entertainment related many of new media business startup including Animax Channel for Japanese animations.
Editor:Jyunko Io / Photo:Yukiko Koshima
Dreaming to be a movie director when I was just a boy
I first became interested in the entertainment industry when I was 14 years old (in 1978).
I saw Star Wars and Grease in 70mm format at the Umeda OS Theatre in Osaka and thought, "I want to become a movie director." However, at that time I never dreamed I would be working on content developed for 5-inch and 6-inch smartphone screens instead of 500" movie theatre screens. To be honest, my dream was far grander in scale than smartphone screens (laughs), but the burning question "why on earth does everyone only look at the world through a 6-inch screen?" coupled with my innate curiosity inspired me to do my current work.
The Hamadayama area where I live is now a peaceful residential area, but in 2001 you would commonly see groups of young people at around 10 o'clock at night, crouching in car lots slurping ramen noodles and playing with their noisy mobile phones. From someone like me who had joined a movie company to create entertainment for adults, I couldn't understand why these young people would gather around such small screens eating junk food instead of eating the delicious dinners their mothers made for them at home. However, by that point in 2000, NTT docomo's i-mode paid content service had already achieved annual sales of 200 billion yen. This figure is equal to the annual sales made from movies, putting the i-mode market on the same scale as the movie industry. The success of the i-mode market despite the hard work of movie industry giants such as Toho, Toei, Warner and Sony made me see the potential of the market, and I began researching more while working in my then current position within Sony Pictures Entertainment.
Sony Pictures Entertainment is a Hollywood visual media company which has movie and television program production and distribution companies such as Columbia, TriStar and Screen Gems under its umbrella. It recently also obtained a top class computer graphics studio called Sony Pictures Animation. I had joined Sony Pictures Entertainment because I wanted to be involved in movies, but my work since joining involved acquiring satellite broadcasting licenses from the then Ministry of Posts and Telecommunications (now the Ministry of Internal Affairs and Communications). At Sony Pictures I was hired as a business development manager, and it was my job to launch seven channels for the SKY PerfecTV! Service. It was in this post that I became involved in the launch of Animax, a specialist anime channel. However, the success of this channel ended up taking me on a path that was even further away from moviemaking (laughs). There were a variety of new businesses being developed at Sony Pictures Entertainment, but the Animax channel was the biggest as it became profitable in just three years.
Steering to Japan Animation from the Hollywood (2001)
Before I talk about the current social media industry and smartphone content production, I'd like to talk briefly about my work on the Animax channel.
At that time, SKY PerfecTV already had more than 100 anime channels including Kids Station and Cartoon Network, so many people said it would be fruitless for Sony to launch an anime channel in these market conditions. But we had decided that despite our Hollywood roots, we wanted to create a Japanese anime channel that would become popular worldwide without any Hollywood content. We had plenty of Hollywood content but no anime programs from Japan at all. So we searched for partner companies that had substantial libraries of anime programs. We concluded long-term umbrella agreements with Toei Animation, Sunrise, Nihon Ad Systems and TMS (Tokyo Movie Shinsha) for their content libraries, and became a shareholder in each of the companies. These agreements provided us with control of 70% of the anime library content in Japan, which is one of the major factors behind the success of Animax.
At around the year 2000 I was asked "what are your next plans for generating new business?" At this point, there was still insufficient infrastructure in Japan to support video on demand services and Netflix(*1), which were devised by Hollywood. Yet the i-mode paid service which was started by NTT docomo in April 1999 had experienced unprecedented success. In particular, the "Kyarappa" service operated by Bandai Co., Ltd. was very successful. This service involved the distribution of a wide range of wallpaper images of characters such as Godzilla, Doraemon and Kamen Rider, with annual sales of 15 billion yen. When we were ready to enter the market, the "hokoyotei" phenomenon was already occurring just as with Japan's movie industry now, meaning Japanese anime characters had become more popular than Hollywood characters, and so we started distributing Japanese anime content and characters. However, the company saw it in a different light, and questioned why we weren't selling Hollywood content. My response was "OK, you got me, I changed my mind!" And so I resigned fromSony Pictures Entertainment and when I was 40 years old I launched the company that is now called Sony Digital Entertainment. Our current business is branding enterprises through social marketing.
(*1) Netflix
A global provider of streaming movies and TV series, over 65.6 million subscribers (as of 2015 June). Any show watched at any time and any place from any device.